Nurse Graduation Gifts - Top Nursing Graduation Gift Ideas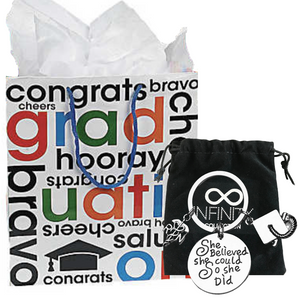 Graduation Gifts for Nurses
 If you know a nurse who's graduating this year, it's a huge accomplishment that deserves to be recognized. Nursing school students have put in countless hours of work, sweat, and undoubtedly a few tears and break downs. To reward this hard work, some nursing graduation gifts are in order.
 With so many nursing students graduating from nursing school, family and friends often ask, "What are some gift ideas for nursing school graduates?" We've put together a list of our top nursing school graduation gifts to help give you some ideas to find the perfect gift for you your grad that has worked so hard. 
1.  Nurse Graduation Keychain $10
Nurse keychain is one of our favorite nurse graduation gift ideas.  Its only $10 and we love the meaning behind it.  Its silver plated and comes in a velvet jewelry bag
2. Nurse Bracelet & Gift Bag $19.99
We like this nurse bracelet and gift bag because its everything you need to give the perfect gift to your favorite nurse
3. Nurse Graduation Bracelet - $15
This nurse graduation bracelet is silver plated on a stainless steel bangle.  It's a great gift that they can have and wear for years to come.  
4.  Nurse Scrunchies - 2pc Set
Nurse Scrunchies are a practical and fun nurse gift.  
5.  Nurse Badge Reel  $9.99
This Badge Reel is the perfect accessory for any outfit. This may be a badge reel, but it looks more like a lovely piece of jewelry. The sturdy snap strap will hold your ID badge securely. You will look very stylish wearing this badge reel.
Nothing says you went out of your way to show how you care than with a personalized nurse gift.  
7. Nurse Cards- $2.99
Nurse cards are perfect to go with any gift
8. Nursing Graduation Keychain & Gift Bag $14.99
We like this nursing keychain and gift bag because its everything you need to give the perfect gift to your favorite nurse
Discover more Nurse Gifts at Infinity Collection