Top Nurse Gift Ideas -Nurse Appreciation Week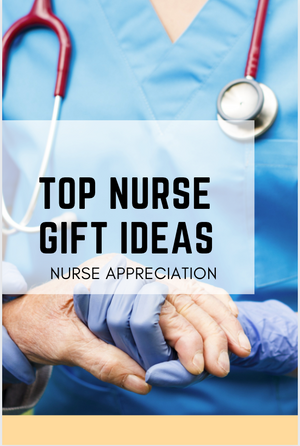 Nurse Appreciation Week is celebrated every year beginning of May. Its an important week to celebrate those who nurses who so selfishly take care of us.  We have all been impacted in some way, shape or form by a Nurse at some point in our life. We've put together a list of our top nurse gifts to celebrate these extraordinary individuals who help us in so many ways without asking anything in return.
Here are our top unique and special nurse gift ideas to help show these professionals that their work is appreciated more than they can ever imagine.
1.  Nurse Prayer Keychain - $10
Nurse keychain is one of our favorite nurse gift ideas.  Its only $10 and we love the meaning behind it.  Its silver plated and comes in a velvet jewelry bag
2. Nurse Bracelet & Gift Bag $19.99
We like this nurse bracelet and gift bag because its everything you need to give the perfect gift to your favorite nurse
3.  Nurse Scrunchies - 2pc Set
Nurse Scrunchies are a practical and fun nurse gift.  
4.  Nurse Badge Reel - Dog Mom $9.99
This Badge Reel is the perfect accessory for any outfit. This may be a badge reel, but it looks more like a lovely piece of jewelry. The sturdy snap strap will hold your ID badge securely. You will look very stylish wearing this badge reel.
Nothing says you went out of your way to show how you care than with a personalized nurse gift.  
6. Nurse Cards- $2.99
Nurse cards are perfect to go with any gift
Discover more Nurse Gifts at Infinity Collection